INTRODUCTION:
A Net Analysis reports a holistic look at the effects resulting from a change in production or spending in the economy, both the positive and negative. Net Analyses that involve two different Sectors will have net winners and net losers beyond just the two directly impacted industries. It can be useful to examine these sides in an analysis and can help create a truer impact picture. It is easiest to do this when you create multiple Events and analyze them in the same Group.
Think about this example. When a new store opens up, local purchasing power doesn't automatically increase to support it. Local residents and visitors are still likely to spend the same amount of their disposable income. These dollars must now, however, be split between more retail options. The new store will win in terms of selling goods, but the older stores will likely lose sales.
This is, of course, unless it can be argued that the new store is actually filling in "import substitution." For example, if this was the first furniture store in the Region, people no longer have to leave to buy a bookshelf and therefore the money is no longer leaked out of the local economy.
DETAILS:
Let's look at an example. Barlow Energy of South Carolina is looking to move $100M in production from fossil fuels to solar. So we will see a decrease in fossil fuels at the same time we see an increase in solar operations. We want to look at the Net Analysis; the overall change in the economy because of both of these Events.
To set this up, we create two Events in South Carolina: a negative $100M in Sector 42 - Electric power generation - Fossil fuel and a positive $100M in Sector 44 - Electric power generation - Solar.

When we run this analysis, the Results screen will default to show us the net effects on South Carolina resulting from the change from fossil fuels to solar power generation - the net effect of both Events. We see that the Direct Output is $0 because we had both a negative and a positive $100M impact.
We can also see that this change will see a loss of 14.5 Indirect jobs and $1,000,624.64 in Indirect Output. The Direct Effects, aside from Output, and Induced Effects all see increases; but why?
We can look at just the negative effects of the loss of fossil fuel power or just the positive effects of solar power by applying the Filter. If Barlow Energy wants to focus only on what jobs will be lost, we can Filter for our fossil fuels Event. Overall, this loss in $100M in fossil fuel energy would have a negative employment impact of 327.87 jobs. 79.65 of these jobs are Direct jobs lost from the Fossil fuel industry. 152.6 of these jobs are Indirect jobs. The remaining 95.61 jobs are Induced jobs.
We can see which Industries these negative job impacts are affecting by viewing the Detailed Employment Results. Notice we see the same negative Direct employment impact of 79.65 in the fossil fuel sector.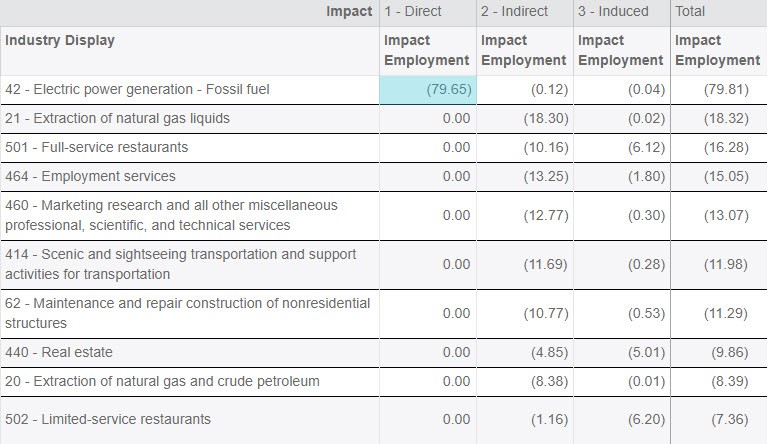 If, on the flip side, they only want to show job gains from the switch, Filter for only the solar event. Overall, this gain in $100M in solar energy would have a positive employment impact of 733.50 jobs. Sector 44 - Electric power generation - Solar will see a Direct Employment impact of 440.99 jobs. The Indirect Employment impact is 138.1 jobs, and the Induced Employment impact is 154.42 jobs.
We again, can dig into which industries these jobs impact by looking at the Detailed Employment Results.
As a net effect, the switch will have a negative Effect on Indirect Employment because the employment loss from fossil fuels supply chain is larger than the employment gain from the solar supply chain (-152.6+138.1 = -14.5).
The overall net change in jobs is 405.63 (733.50-327.87=405.63). We can therefore conclude that in South Carolina, investing in solar energy is better for overall employment than that of fossil fuel energy. Note that this might be a very different answer if we examined West Virginia where a significant amount of coal is mined or in New Hampshire were they have far fewer sunny days than South Carolina.
RELATED ARTICLES:
ICA: Industry Contribution Analysis vs. Base Analysis
Utility Purchases & Energy Rebates


BLOG:
Written September 19, 2019